Hint: For once you'll need to collect coins before rolling boulders.
Full Solution: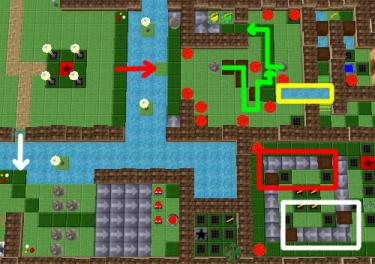 Move into the red teleporter. Use the button to temporarily disable the conveyor and retrieve two boxes (red box) to build a bridge along the red arrow. Use the wooden boxes to build a bridge along the yello rectangle. Collect the two keys, then roll the two boulders along the green paths. Collect all keys and coins in this area, and open the blue gate.
Now grab two more boxes from the conveyor and build a bridge along the white arrow. Use the boulders to destroy the chompers for bonus points, but make sure one boulder comes to rest on the red button. Exit through the next teleporter. Collect keys and the gold star.