Hint: Stinky better hurry!
Full Solution: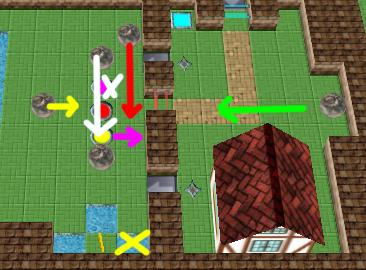 Move Stinky into the red teleporter quickly. Move one boulder onto the yellow button (white arrow) and stand on the purple button (white "X"). Now wait for the cannons to destroy the chompers.
Now move three boulders along purple, red, then yellow arrows to open the red gate. You next need to get a second boulder to the yellow "x". Roll a boulder back along the green arrow. Use the conveyor timer buttons to run in and out of the left room twice (very quickly! you must do this before the button timer runs out). The first time enter through the top and push the boulder down into the water (then exit again!), the second time enter through the bottom and collect the coin.
Peegue can now stop the top conveyor and both can exit. Careful - the blue button will release a second horde of chompers. Get ready to run!