Hint: Red chompers follow only Stinky. Yellow chompers follow only Loof.
Full Solution: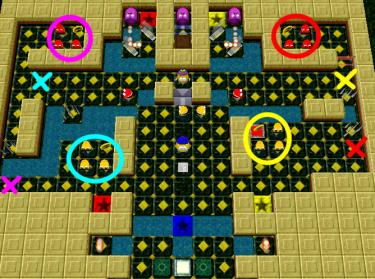 Move Loof to the yellow "X" to destroy the chompers marked in yellow. Now move Loof out of the way, and Stinky to the red "X" to destroy the chompers marked in red. Repeat on the other side (purple/blue positions).
Move Stinky into (and immediately out of) the two teleporters to redirect the cannon fire. Now Loof can walk left/right of the starting position to lure the chompers below into the fireballs.
Only then should you move Stinky/Loof into the blue teleporter and the Amphitheatre. Get ready to run, once you push the blue button. Move through the rolling boulders and lure the crowd of chompers into their doom. You might need to enter/exit the theatre a few times to get out all of the chompers. Now the path to the Gold Star is clear.